Snapshot News
February 2019

BEWARE OF PEOPLE WITH A MISSION!
One should always be suspicious of all-out crusaders, who know no limit when it comes to promoting their cause. In January 2019, an anti-asbestos activist posted an article on the Canadian Environmental Law Association (CELA)'s website, bemoaning the fact that the Canadian Government is not imposing stricter regulations, totally banning all form of asbestos use...
Science News
August 2017
First Identification of Pulmonary Asbestos Fibres in a Spanish Population.
This study, first undertaken as a PhD tesis, was undertaken to characterize, for the first time in Spain, the type of asbestos fibres in the lungs of exposed and non-exposed populations.
New brochures
Science Must Prevail
Science Based Facts
Relevant Health Issues - 2015
Rotterdam Convention
COP7 MEETING – 2015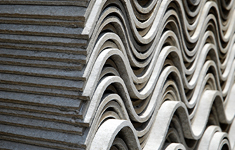 The chrysotile fibre is encapsulated in a matrix of cement or resin, preventing the release of fibres.

THE CHRYSOTILE INDUSTRY CREATED A RESPONSIBLE-USE PROGRAM THAT IS BASED ON THE CONTROLLED-USE APPROACH TO REGULATING CHRYSOTILE