Snapshot News
May 2018

PRIORITIZE A SAFE AND RESPONSIBLE USE
The assessment based on a potential threat as opposed to a genuine health risk used by the International Agency for Research on Cancer (IARC) to draw its list of carcinogenic products doesn't mean that the use of those products should be banned across the world.
Science News
August 2017
First Identification of Pulmonary Asbestos Fibres in a Spanish Population.
This study, first undertaken as a PhD tesis, was undertaken to characterize, for the first time in Spain, the type of asbestos fibres in the lungs of exposed and non-exposed populations.
New brochures
Science Must Prevail
Science Based Facts
Relevant Health Issues - 2015
Rotterdam Convention
COP7 MEETING – 2015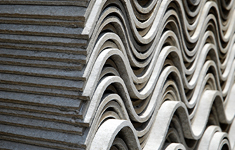 The chrysotile fibre is encapsulated in a matrix of cement or resin, preventing the release of fibres.

THE CHRYSOTILE INDUSTRY CREATED A RESPONSIBLE-USE PROGRAM THAT IS BASED ON THE CONTROLLED-USE APPROACH TO REGULATING CHRYSOTILE